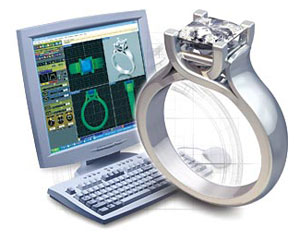 Get professional level skills and techniques including how to perform basic jewelry repairs and create unique designs. Learn through challenging hands-on projects with your professional jewelry tools included in the course.

Jewellery Designs Software
Gems Designs Software adds user-defined gem shapes to the interactive gem library. Select gem or diamond faceting for realistic renders, and define several dimensions of the gem so that related components in the piece can be modeled with greater accuracy. User-created custom gems can be saved for future use, re-sized in the gem loader just like a standard library shape, and used in any builder that accepts gems, including render builder, without additional effort.
Ring designs are quick and easy with a more advanced, interactive Eternity Ring Builder that draws upon every gem available in the program. Set the shape, size, number, and order of gems, then define gem spacing and other dimensions of the band, selecting from a library of cross-section shapes or drawing your own.